Rolling Stone: Robert Fripp and Toyah Willcox Interview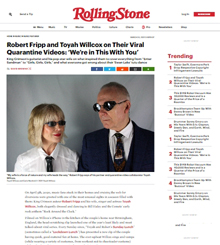 Robert Fripp and Toyah Willcox on Their Viral Quarantine Videos: 'We're in This With You'
King Crimson's guitarist and his pop-star wife on what inspired them to cover everything from "Enter Sandman" to "Girls, Girls, Girls," and what everyone got wrong about their 'Swan Lake' tutu dance
"My wife is a force of nature and my wife leads the way," Robert Fripp says of his partner and quarantine-video collaborator Toyah Willcox.
On April 5th, 2020, music fans stuck in their homes and cruising the web for diversions were greeted with one of the most unusual sights in a season filled with them: King Crimson auteur Robert Fripp and his wife, singer and actress Toyah Willcox, both elegantly dressed and dancing to Bill Haley and the Comets' early rock anthem "Rock Around the Clock."
Filmed on Willcox's iPhone in the kitchen of the couple's home near Birmingham, England, the head-scratching clip launched one of the year's least likely and most talked-about viral series. Every Sunday since, "Toyah and Robert's Sunday Lunch" (sometimes called a "Lockdown Lunch") has presented a new clip of the couple having quick, good-natured fun at home. The ever-upbeat Willcox sings and vamps (while wearing a variety of costumes, from workout suit to cheerleader costume) while a deadpan Fripp accompanies her on electric guitar.
• Continue reading at Rolling Stone. (Photo © Toyah Willcox)