Metal Sucks: Toyah Covers 'Light My Fire'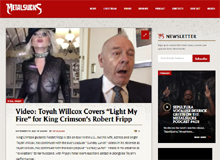 Toyah Willcox Covers "Light My Fire" for King Crimson's Robert Fripp
King Crimson guitarist Robert Fripp is still on tour in the U.S., but his wife, actress and singer Toyah Willcox, has continued with the duo's popular "Sunday Lunch" videos in his absence as "love letters" to her husband, with Fripp's hotel room reactions edited in alongside Toyah's performances.
For this week's video, Willcox delivers a solo cover of The Doors' "Light My Fire," changing the taunt of song's refrain from "Come on baby, light my fire" to "Come on Bobby." "I'm keeping the bed warm for you," she teases as the song wraps up, adding "the sofa and the carpet too" as Fripp expresses his admiration and amusement, quipping, "I think it's time to go home."
• Continue reading at Metal Sucks. Watch the Latest Sunday Lunch/Love Letters at You Tube.