Kidderminster Shuttle: Toyah To Headline Mr Tee In The Park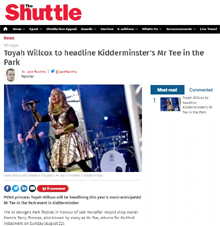 Toyah Willcox to headline Kidderminster's Mr Tee in the Park
Punk princess Toyah Willcox will be headlining this year's much-anticipated Mr Tee in the Park event in Kidderminster.
The St George's Park festival in honour of late Horsefair record shop owner Francis Terry Thomas, also known by many as Mr Tee, returns for its third instalment on Sunday (August 22).
There will be free events taking place all over the weekend in the Horsefair, Broadwaters and Greenhill area of Kidderminster.
On Saturday (August 21) there will be activities, stalls and entertainment at Springfield Park from 11am until 4pm, including a performance from the Black Country Beatles.
• Continue reading at the Kidderminster Shuttle.