Reader's Digest: Toyah Willcox: I Remember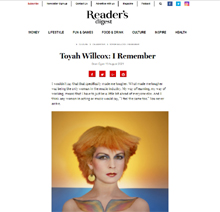 Toyah Willcox is an English musician, actress and TV presenter. From fronting a band to releasing solo music, there is little that she hasn't done across a four-decade career
My childhood was definitely privileged. We had hot water, heating, food, we had our own home, and I went to a private school.
Having a limp, dyslexia and a lisp. I wasn't even aware of it. I was having a perfectly happy childhood until people pointed out that I had a physical difference to everyone else in the room. Then, when I was sitting my 11-plus people realised that I was not on the same page as everyone else because of dyslexia. Alan Sugar, Richard Branson—you could name a thousand people who have exactly the same experience as me and we're doing perfectly well. I have such a wonderful life. I have overcome so much.
I wouldn't say that that specifically made me tougher. What made me tougher was being the only woman in the music industry. My way of learning, my way of working, means that I have to just be a little bit ahead of everyone else. And I think any woman in acting or music would say, "I feel the same too." You never arrive.
• Continue reading at the Reader's Digest.