Ipswich Star: Toyah Heading To Let's Rock Ipswich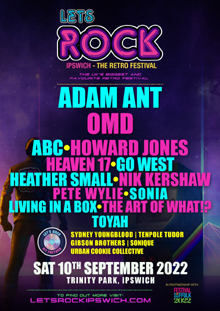 Toyah heading for Ipswich with Let's Rock at Trinity Park
A host of 80s stars will turn the clock back 40 years when a major music event comes to Trinity Park near Ipswich in September to round off the Festival of Suffolk.
Among the bill-toppers at "Let's Rock – Ipswich" will be UK entertainment icon Toyah who is paying a return visit to an area she has played several times during her career.
She will share the stage with Adam Ant, Orchestral Manoeuvres in the Dark, ABC, and Ipswich's own Nik Kershaw among other massive names from a great era in music.
Toyah spoke to us about her visit – and the importance of 80s music. She said: "It really is great, we all get along together very well and there is a real energy about that era that means we all have a great time.
"When I'm touring myself and doing a full set I do a lot of my new material – but with this I have about 20 minutes and I concentrate on the 80s stuff, that's what people have come to hear."
• Continue reading at the Ipswich Star. See further info on Let's Rock Ipswich 2022 and ticket link at toyahwillcox.com.