In The Court Of The Crimson Queen: Further Press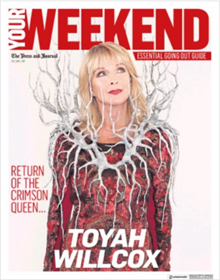 Another new In The Court Of The Crimson Queen cover for Toyah – Your Weekend, the Press & Journal supplement, published in Northern and Highland Scotland, including Aberdeen, Inverness and Moray. The print feature included in Your Weekend is previewed below.
• The Press & Journal: Return Of The Crimson Queen – It's no mystery as to why Toyah Willcox, who recently celebrated her 60th birthday, looks and sounds amazing. "I don't drink, I don't overeat, I drink lots of water and en route to shows I travel alone so I don't have to speak to anyone," said Toyah — This feature was previously published online earlier this week. See here.
Toyah was also interviewed in Friday's Express, which only appears to have been available in the newspaper's print edition as it hasn't been published online, so far.
• The Express: Music: My Six Best Albums – Toyah Willcox, 60, is a pop star and actress whose eight Top 40 hits include It's A Mystery and I Want To Be Free. Her latest album, a new version of In The Court Of The Crimson Queen, is released today…