Marriott Meets Toyah: 2019 Interview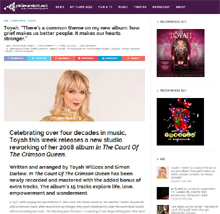 Toyah: "There's a common theme on my new album: how grief makes us better people. It makes our hearts stronger."
Celebrating over four decades in music, Toyah this week releases a new studio reworking of her 2008 album In The Court Of The Crimson Queen.
Written and arranged by Toyah Willcox and Simon Darlow, In The Court Of The Crimson Queen has been newly recorded and mastered with the added bonus of extra tracks. The album's 15 tracks explore life, love, empowerment and wonderment.  
In 1977, whilst playing the part of Emma in Tales From The Vienna Woods at The National Theatre, 18-year old Willcox formed a band. After several line-up changes, they spent a brief period under the name Ninth Illusion, without recording any music. The following year, the band – comprising of Joel Bogen (lead guitar), Pete Bush (keyboards), Dave Robin (drums), and Windy Miller (bass) – decided on naming the group Toyah.
• Continue reading at philmarriott.net.