Electric Ladies Tour: Line Up + Schedule Update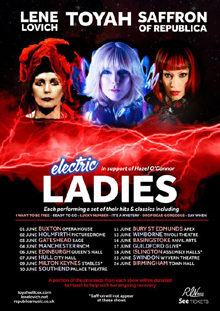 In support of Hazel O'Connor, the Electric Ladies Tour will be going ahead with Toyah, Lene Lovich and Saffron of Republica.
Unfortunately, due to ongoing health issues, Hazel is unable to join the Electric Ladies Tour, but she will be very much with them in spirit.
Some of Hazel's songs will be performed and a portion of the income from each show will going directly to Hazel to help towards her ongoing recovery.
All tickets remain valid.
Performing alongside their full band, each artist will perform their own set alongside some unique collaborations.
This hit-packed retro fest will include such classics as Thunder In The Mountains, Will You, Lucky Number, Ready To Go, Say When, Drop Dead Gorgeous and It's A Mystery.
The Yarm, Lincoln, Exeter dates will no longer be taking place. Saffron will not be performing at Guilford, London & Milton Keynes, just Toyah & Lene Lovich.
• See all the dates and ticket links here.