Yahoo News: Is 60 Really The New 40?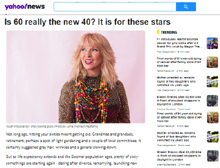 Is 60 really the new 40? It is for these stars
Not long ago, hitting your sixties meant getting old. Grandmas and grandads, retirement, perhaps a spot of light gardening and a couple of local committees. It certainly suggested grey hair, wrinkles and a general slowing-down.
But as life expectancy extends and the Boomer population ages, plenty of sixty-somethings are starting again – dating after divorce, remarrying, launching new projects and businesses, and fitting time with the grandchildren (if they have them) in between travel and trips.
This week, Toyah Willcox, known for her wild style and 80s pop hits including It's a Mystery, appeared on This Morning, talking about her new role. Toyah, 63, looked 20 years younger and social media commentators were quick to admire her appearance – "Not having it that she's 63" wrote one, while another tweeted, "Toyah looks fantastic!"
She's not alone in holding back the years, with fellow gorgeous sixty-somethings including Emma Thompson, Andie McDowell, Demi Moore, Madonna and Julianne Moore, all still in the spotlight and looking remarkable.
• Continue reading at Yahoo News.