Express: Proud Cabaret Review: Toyah Proves She's Still Got It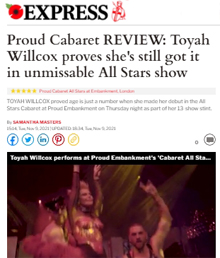 Proud Cabaret Review: Toyah Willcox proves she's still got it in unmissable All Stars show
Toyah Willcox proved age is just a number when she made her debut in the All Stars Cabaret at Proud Embankment on Thursday night as part of her 13-show stint.
Toyah Willcox joined the Proud's Cabaret All Stars for a series of performances last week and didn't disappoint. The 63-year-old reprised her quirky punk rocker look to sing a string of hits alongside jazz musicians, award-winning acrobats, fire breathers and burlesque beauties.
During one of her performances, the musician sported a black high-neck mesh top covered with a silver breast plate, fishnet tights, knee-high boots and a quirky hairpiece.
• Continue reading at the Daily Express. See further info on Toyah with Proud Cabaret, here.