Toyah Live 2021: Posh Pop Tour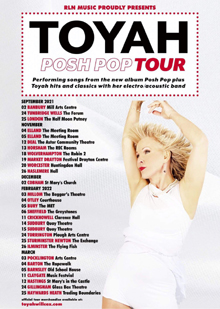 It looks like tickets are selling fast for Toyah's forthcoming – and just very recently announced –  Posh Pop Tour.
The Half Moon in Putney, London, where Toyah brings Posh Pop to on 25th September 2021 – the third date of the tour – tweeted this very exciting news earlier today: "Hurry! Less than 30 tickets left for our show with Toyah Sat 25 Sept 2021! Do not miss this intimate London gig from a true musical pioneer. Hits & classics plus new gems from Toyah's Posh Pop album".
In a career spanning over 40 years Toyah has amassed thirteen top 40 singles, recorded twenty-four albums, written two books, appeared in over forty stage plays, acted in twenty feature films and presented hundreds of television programmes.
This is a unique chance to experience Toyah in an intimate venue performing a set of her loved hit singles and classics alongside modern days classics Sensational and Dance In The Hurricane and songs from her eagerly awaited new studio album "Posh Pop".
• Buy tickets here. For the full Posh Pop Tour schedule, plus ticket links for the dates currently on sale, visit toyahwillcox.com.