The News: Princess Of Punk Gone All Posh Pop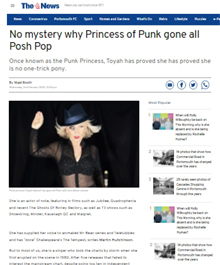 No mystery why Princess of Punk gone all Posh Pop
Once known as the Punk Princess, Toyah has proved she has proved she is no one-trick pony.
She is an actor of note, featuring in films such as Jubilee, Quadrophenia and recent The Ghosts Of Borley Rectory, as well as TV shows such as Shoestring, Minder, Kavanagh QC and Maigret.
She has supplied her voice to animated Mr Bean series and Teletubbies and has "done" Shakespeare's The Tempest, writes Martin Hutchinson.
But to most of us, she is a singer who took the charts by storm when she first erupted on the scene in 1980. After five releases that failed to interest the mainstream chart, despite going top ten in independent charts, Four From Toyah EP –that included the fantastic It's A Mystery – reached number four in mainstream UK singles' charts and was the first of four consecutive releases to top UK independent charts.
She followed her breakthrough with I Want To Be Free and another release Thunder In The Mountains, both of which were top ten hits, before follow-up EP Four More From Toyah.
Toyah has also had ten chart albums, including 1981's Anthem, which got to number two in the charts.
• Continue reading at the The News. See all of Toyah's upcoming Posh Pop Tour dates at toyahwillcox.com.