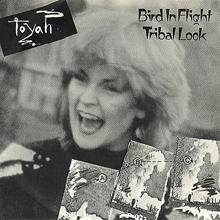 A new interview with Matt Dangerfield, who produced Toyah's first single of the 1980s, Bird In Flight/Tribal Look.
Early in February 1980, Dangerfield produced labelmate Toyah's 'Bird in Flight' single, just a year before they broke the mainstream with the Four From Toyah E.P. This extended play release featured 'It's A Mystery', which became the breakthrough hit for the band, fronted by singer-songwriter Toyah Willcox.
"The reason I was brought in to produce that single was to get her airplay. She was having lots of publicity and everybody was interested in her, but the music wasn't very radio-friendly".
'Bird in Flight' wasn't featured on an album release at the time, although it was added to the 2002 reissue of Toyah's debut album Sheep Farming In Barnet, and was also included on the 2005 compilation The Safari Singles Collection Part 1: 1979-1981.
• Continue reading/watch the full interview at PhilMarriott.net.