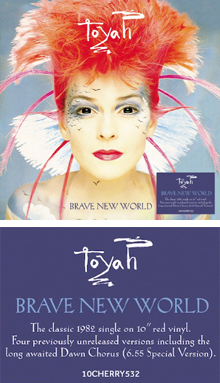 *** ADVANCE NOTICE….
PRE-ORDER LIVE tonight at 7pm ***
A special 10" Cherry Red-coloured vinyl EP commemorating Toyah's classic single 'Brave New World is released 10 March 2023.
Limited to 500 copies only.
The EP contains 4 tracks, all previously unreleased versions and the long-awaited Dawn Chorus (6.55 Special Mix).
Part of its special '45s at 45' vinyl series marking the 45th Anniversary of Cherry Red Records.
Pre-order from 7pm TONIGHT
Thur 22 Dec 2022
BRAVE NEW WORLD
10″ Red-coloured Vinyl EP
Side A
1. Brave New World (Razzmatazz Mix)
2. Street Creature (Razzmatazz Mix)
Side B
1. Dawn Chorus (6.55 Special Version)
2. Ieya 1982 (Edited Version)