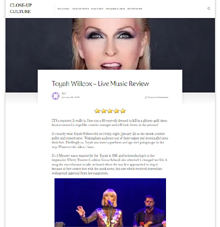 Toyah Willcox – Live Music Review
It's a mystery. It really is. How can a 63-year-old dressed to kill in a glittery gold dress bounce around a stage like a manic teenager and still look divine in the process?
It's exactly what Toyah Willcox did on Friday night (January 21) as she shook a rather polite and conservative Wokingham audience out of their torpor and (eventually) onto their feet. Thrillingly so. Toyah was born to perform and age ain't going to get in the way. Whatever she takes, I want.
It's A Mystery was a massive hit for Toyah in 1981 and in introducing it at the impressive Whitty Theatre (Lucklow House School) she admitted it changed her life. A song she was reluctant to take on board when she was first approached to sing it because of her connection with the punk scene, but one which received immediate widespread approval from her supporters.
Toyah, a pocket dynamo on stage, is as much a raconteur as a singer – she's done some mean acting in her time, starring with Katharine Hepburn in the 1979 film The Corn Is Green. And her show is all the better for the fun insight she gives on an artistic career spanning more than 40 years – and a long-standing marriage to King Crimson founder Robert Fripp that goes back to 1986. If you read her latest blog on her website (Toyahwillcox.com) you can tell straightaway that they remain very much in love.
• Continue reading at Close Up Culture.