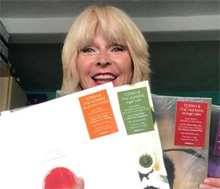 The next episode of Toyah At Home is coming this Saturday (10th October), which is also National Album Day 2020. Do you have any questions about Toyah's albums..?
Sheep Farming In Barnet, The Blue Meaning, Toyah! Toyah! Toyah!, Anthem, The Changeling, Warrior Rock – Toyah On Tour, Love Is The Law, Toyah! Toyah! Toyah! All The Hits, Minx, Mayhem, The Lady Or The Tiger, Desire, Prostitute…
There are many to choose from, and that impressive list is just Toyah's album releases of the 1980s!!
Submit your questions in the comments section at Toyah's official Instagram and Twitter, about albums or anything else and tune in at 11am on Saturday at You Tube and Facebook. (Photo © Toyah Willcox)