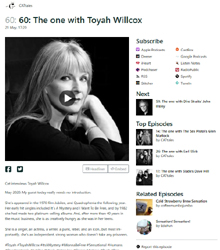 A new, 30 minute, audio interview. Toyah chats about the frustration of currently not playing live, looking forward to a decadent 2020s and a busy 2021, having a diverse career, how the entertainment industry has changed over the past four decades, fighting against ageism, and much more.
Cat interviews Toyah Willcox
May 2020: My guest today really needs no introduction.
She's appeared in the 1978 film Jubilee, and Quadrophenia the following year. Her early hit singles included It's A Mystery and I Want To Be Free, and by 1982 she had made two platinum-selling albums. And, after more than 40 years in the music business, she is as creatively hungry as she was in her teens.
She is a singer, an actress, a writer, a punk, rebel, and an icon…but most importantly, she's an independent, strong woman who doesn't take any prisoners.
• Listen to the interview at Audio Boom.