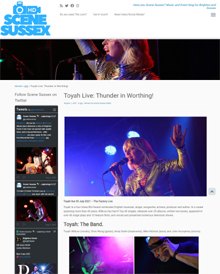 Toyah live 29 July 2021 – The Factory Live
Toyah Is a four times Brit Award nominated English musician, singer, songwriter, actress, producer and author. In a career spanning more than 40 years, Willcox has had 8 Top 40 singles, released over 20 albums, written two books, appeared in over 40 stage plays and 10 feature films, and voiced and presented numerous television shows.
Toyah: The Band.
Toyah Willcox (vocals), Chris Wong (guitar), Andy Doble (keyboards), Mike Nichols (bass) and John Humphrey (drums).
Toyah had only recently announced that she was to put on a concert back on the South Coast with her full live electric band. The venue was announced as The Factory Live, located at Unit 9A, Ivy Arch Road in Worthing. The date was set for Thursday 29th July 2021. Toyah last made a visit to Brighton in November 2019 when she played chalk to promote her 2019 charting album 'In The Court Of The Crimson Queen'.
• Continue reading at Scene Sussex.