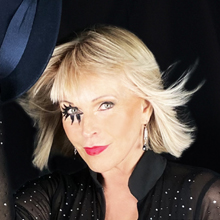 A great interview with Toyah on today's Steve Wright In The Afternoon show on BBC Radio 2. This included plays of two previously unheard songs from Posh Pop.
Toyah talked about the recording process of Posh Pop, what inspired the album, and about loving being back on the road touring, playing festivals and gigs.
There were plays of I Want To Be Free, It's A Mystery, Levitate, The Bride Will Return, and a short burst of Rhythm In My House at the close of the chat.
Steve enthused about Toyah having such a longtime career yet still releasing such quality music. He also mentioned Toyah's legendary warehouse, Mayhem!
Toyah also talked about her latest film work, on, the just released, To Be Someone and, the to be released in October, The Ghosts Of Borley Rectory.
• Listen to the show/interview at BBC Sounds. Toyah appears approximately 2hrs 30m into the show. (Photos © Toyah Willcox)