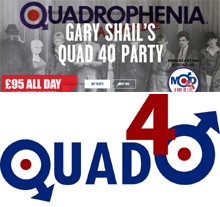 Gary Shail Brings You Quadrophenia 40th Birthday Party
We are delighted to announce that our latest confirmed guest for Quad 40 is the fantastic Toyah Willcox who played the part of Monkey. Toyah joins Gary Shail, Trevor Laird, Leslie Ash and Carol Harrison (so far!) confirmed names – with more to follow!
2019 is the 40th anniversary of the movie Quadrophenia. The 25th August heralds the biggest single collection of cast and crew to celebrate this seminal movie. Gary Shail ( Spider) is proud to present the ultimate "Quadrophenia Experience" at Brighton's Palace Pier.
• Further info/Book tickets at the Quad 40 website. (Thanks to Layne Patterson)