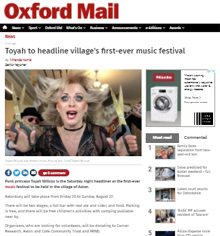 Toyah to headline village's first-ever music festival
Punk princess Toyah Willcox is the Saturday night headliner at the first-ever music festival to be held in the village of Aston.
Astonbury will take place from Friday 20 to Sunday August 22.
There will be two stages, a full bar with real ale and cider, and food. Parking is free, and there will be free children's activities with camping available near by.
Organisers, who are looking for volunteers, will be donating to Cancer Research, Aston and Cote Community Trust and MIND.
• Continue reading at the Oxford Mail.