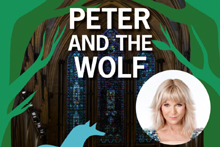 Organ Festival 2022: Toyah Willcox announced as narrator
A famous face will be returning to this year's Organ Festival at Salisbury Cathedral.
Actress and singer Toyah Willcox returns to Wiltshire on Saturday, November 5 for a Fireworks Day performance of Sergei Prokofiev's Peter and the Wolf.
Toyah and her husband Robert Fripp lived in Broad Chalke in the 1980/90s. She will tell the story of the heroic small boy Peter who takes on a fearsome Wolf, accompanied by a duck, a bird, and a cat.
Timed to work in with firework displays later in the day, the concert begins at 2pm with an hour-long programme.
• Continue reading at the Salisbury Journal. See also SalisburyCathedral.Org.