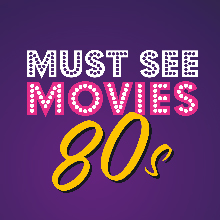 British Home Entertainment Wants the '80s Back
"The '80s called. They want their store back," was a memorable line from RadioShack's 2014 Super Bowl ad. Now, the British Association for Screen Entertainment is launching a marketing campaign pushing top movies and music albums from the 1980s onto coronavirus-rattled consumers in the 21st Century.
Retailers will showcase range of classic 80s titles on Blu-ray Disc, DVD and transactional VOD, including Big, Blade Runner, Bill & Ted's Excellent Adventure, Cocktail, Conan The Destroyer, Dirty Dancing, Dune, ET, Ghost, Ghostbusters, The Goonies, Labyrinth, The Lost Boys, Purple Rain, Robocop, Stand By Me, Top Gun and Who Framed Roger Rabbit, among others.
"Great music and cinematic stories have always gone hand in hand and the 80's is a perfect example," Toyah Willcox, British musician and National Album Day 2020 ambassador, said in a statement. "Cinema in the 80's was revolutionary for bringing high octane action and rock music together and I am proud to have been a part of this era. Cinema in 80's was also about bringing the audience thrills, thrills and even more thrills. Never has there been a more appropriate time to revisit this celluloid adventures."
• Continue reading at Media Play News.