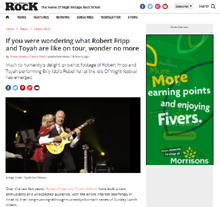 If you were wondering what Robert Fripp and Toyah are like on tour, wonder no more
Much to humanity's delight, pro-shot footage of Robert Fripp and Toyah performing Billy Idol's Rebel Yell at the Isle Of Wight festival has emerged
Over the last few years, Robert Fripp and Toyah Willcox have built a new, enthusiastic and unexpected audience, with the entire internet seemingly in thrall to their long-running-although-currently-dormant series of Sunday Lunch videos.
Could they cut it on the road? That was surely the question on everyone's lips when the frisky duo announced a series of 'Rock Party' dates, during which they'd perform many of the songs that have so enriched our lives.
In late May the first audiences bore witness to the pair's live antics, as the King Crimson man and his bride played a pair of local shows at Worcester's Huntingdon Hall. Amongst the songs performed were Metallica's Enter Sandman, Black Sabbath's Paranoid, ZZ Top's Sharp Dressed Man, and, perhaps most remarkably, Kashmir by Led Zeppelin.
• Continue reading at Classic Rock/Louder. See also Metal Sucks, Ultimate Guitar and Ultimate Classic Rock.