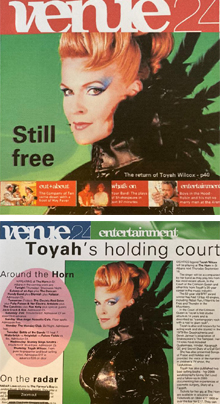 A venue Toyah has played live at in the past, The Horn in St Albans, needs financial help to survive through the current global health crisis.
The Horn needs your help. In light of the current situation regarding Covid-19/Coronavirus and as instructed by the government, The Horn is closed until further notice.
As always, the safety and health of staff, customers, artists and all others is of the utmost importance, our focus now needs to be on protecting the future of the venue and doing our best to ensure staff welfare.
Like so many other small, independent businesses, we now face an unpredictable and potentially very grave future and we need your help.
Put simply: without support and action during these times, The Horn will not survive and its staff will be placed in a vulnerable financial position. We are taking advice from the government re financial help and will apply for a business loan when it goes live. But all of these measure will still fall short paying our existing outgoings and losses.
We have decided to launch this funding page to help support our staff and pay essential bills. All funds raised on this page will be used to support staff financially while trying to safeguard and protect the future of the venue.
• Visit The Horn St Albans' crowdfunding page at Crowdfunder.