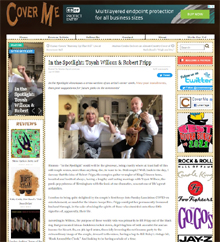 In the Spotlight: Toyah Willcox & Robert Fripp
In the Spotlight showcases a cross-section of an artist's cover work. View past instalments, then post suggestions for future picks in the comments!
Hmmm–"In the Spotlight" could well be the giveaway, being exactly where at least half of this odd couple seems, more than anything else, to want to be. Odd couple? Well, back in the day, I daresay that the idea of Robert Fripp, the complex guitar wrangler of King Crimson fame, besuited and besitted always, having a lengthy and lasting marriage with Toyah Willcox, the punk-pop princess of Birmingham with the look-at-me dramatics, was not one of life's great certainties.
I confess to being quite delighted by the couple's first forays into Sunday Lunchtime COVID-19 entertainment, as much for the bizarre hoops Mrs. Fripp could put her permanently-bemused husband through, in the sake of raising the spirits of those who stumbled onto these little vignettes of, apparently, their life.
According to Willcox, the purpose of these weekly vids was primarily to lift Fripp out of the black dog that permeated him as lockdown locked down, depriving him of both an outlet for and an income for his art. So, on 5th April 2020, those idly browsing the net became party to the extraordinary image of the couple, dressed to the nines, having a bop to Bill Haley's vintage hit, "Rock Around the Clock." And looking to be having a whale of a time.
• Continue reading at Cover Me.