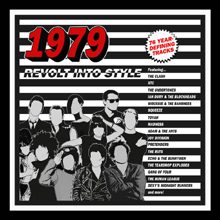 Toyah's 1979 debut single, Victims Of The Riddle (Part 1), is included on the forthcoming 3CD Box Set, Revolt Into Style 1979. The compilation is released on 21st January 2022.
• Four exceptional hours of music that defines British pop at the end of a tumultuous decade
• Continuing Cherry Red's yearly overview of the late '70s UK "new music" scene
• Housed in a stylish clamshell box, 'Revolt Into Style' features the best of a fast-splintering scene, rife with creativity
If 1977 was the year that punk broke, and 1978 saw the UK turn Day-Glo, then 1979 was all about the aftershock of punk, with the redrawn British musical landscape divided between various youth sub-cultures and factions. The release of the film Quadrophenia gave a focal point to the growing mod revival, power pop bands like The Jags similarly sought inspiration from the mid-'60s, while 2-Tone recalibrated the ska sound of Prince Buster for a new generation of pork pie hat-wearing rude boys.
Running parallel to those developments, a plethora of bands – prominent among whom were Public Image Ltd, Siouxsie And The Banshees, The Fall and Joy Division – were demanding the future now with an uncompromising sound and nonconformist approach that would subsequently be labelled post-punk. They were joined by the likes of The Human League and Tubeway Army, who brought avant-garde electronic influences and dystopian lyrical themes into the pop charts.
With the more mainstream Spirit-of-'77 bands now rebranded by the radio-friendly marketing term New Wave, 1979 turned out to be an epic pot-pourri of sounds and styles. The likes of Madness, Echo And The Bunnymen, The Teardrop Explodes, Pretenders and Dexy's Midnight Runners all made their vinyl debuts, while the singles chart boasted instant three-minute classics from The Jam, The Clash, The Skids, Squeeze, The Ruts, XTC and The Undertones.
• Further info on this release at Cherry Red Records. (Thanks to Michael Murray)