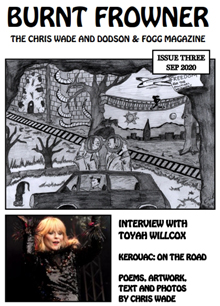 Toyah is interviewed, about creativity in lockdown, in the third digital issue of Burnt Frowner – The Chris Wade and Dodson & Fogg magazine. Read it here.
Toyah is someone I've always admired. She's a proper artist in the truest sense, a wild creative spirit who has always stuck two fingers up to the face of convention. She's a singer, artist, actress, producer, writer, TV personality – but just using those words doesn't really do her justice. Yes she fits these descriptions, but she's unique. She's a pop icon, has been so for almost forty years, and she's still selling tons of albums and playing sold out venues all over the world… well, when they're open that is.
Despite years of fame, she still comes across as a creative spirit on the edge, an experimenter, a fearless individual defying expectations. She's been in classic films like Jubilee and Quadrophenia, acted alongside the likes of Laurence Olivier on TV (in The Ebony Tower), scored hit singles across the world, achieved legendary status in the music business, influenced multiple generations of men and women alike, packed out venues all over the world, has maintained a high profile on TV for decades and been a mentor and role model for countless people.
• Continue reading at Burnt Frowner.