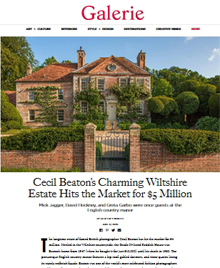 Cecil Beaton's Charming Wiltshire Estate Hits the Market for $5 Million
Mick Jagger, David Hockney, and Greta Garbo were once guests at the English country manor.
The longtime estate of famed British photographer Cecil Beaton has hit the market for £4 million. Nestled in the Wiltshire countryside, the Grade II–listed Reddish House was Beaton's home from 1947 (when he bought it for just £10,000) until his death in 1980.
The picturesque English country manor features a hip roof, gabled dormers, and stone quoins lining its stately redbrick façade. Beaton was one of the world's most celebrated fashion photographers in addition to being an acclaimed painter and designer. (He even won three Academy Awards for his costume and production work in Gigi and My Fair Lady.)
… In the wake of Beaton's death, residents have included Countess of Chichester, Ursula Henderson, as well as musical power couple Robert Fripp and Toyah Willcox.
• Continue reading at Galerie.