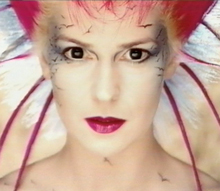 40 years ago this very week Toyah was filming the video that would accompany the release of the 1982 single, Brave New World.
In Monday's repeat of Video Killed The Radio Star on Sky Arts, Toyah recalled filming the sea and beach scenes on 9th April 1982, as well as riding the horse for scenes filmed in London.
Brave New World was directed by David Mallet and the beach scenes were filmed in Hastings and took place incredibly early in the morning, Another location was Battersea Power Station in London later on the same day. There was also studio filming.
The song was written by Toyah and Joel Bogen and produced by Steve Lillywhite. The single was released in May 1982, the only one to be taken from the album The Changeling, and certainly had an effect on me at the time. I still remember the day I bought the single, being mesmerised by the sleeve, and Toyah's, still stunning, imagery. I loved Brave New World then and still do now. As with Be Proud Be Loud (Be Heard), it's message and lyrics are just as relevant today. It transcends time.