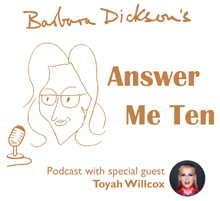 Toyah guests today on Barbara Dickson's Answer Me Ten podcast.
Barbara said of meeting Toyah: "What a delight to chat with her. Bx"
A series of new weekly podcasts, 'Answer Me Ten', Join legendary singer Barbara Dickson as she poses ten questions to different women in the world of music. Visit Barbara at www.barbaradickson.net
• Listen to Toyah's Answer Me Ten podcast chat with Barbara Dickson here or at You Tube.