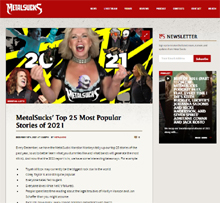 MetalSucks' Top 25 Most Popular Stories of 2021
Every December, we have the MetalSucks Mansion Monkeys tally up our top 25 stories of the past year, so as to better learn what you dummies like and what bands will generate the most ¢lick$. And now that the 2021 report is in, we have some interesting takeaways. For example:
• Toyah Willcox may currently be the biggest rock star in the world.
• Corey Taylor is also still quite popular.
• Everyone hates Ted Nugent.
• Everyone loves Vince Neil('s failures).
• People spent less time reading about the legal troubles of Marilyn • Manson and Jon Schaffer than you might assume.
• Fans still have really, really strong opinions regarding band merch.
• 2021 wasn't much better than 2020.
• Peruse the stories you made our most popular below.
• Continue reading at Metal Sucks.