Retro Man Blog: Gig Review – Posh Pop Tour at Haslemere Hall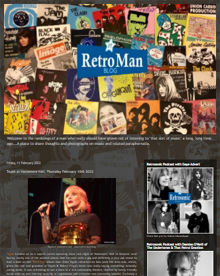 A great, and comprehensive, review of Toyah's Posh Pop Tour gig on Thursday, at Haslemere Hall in Surrey, from Retro Man Blog.
Toyah at Haslemere Hall, Thursday February 10th 2022
Toyah treated us to a superb career-spanning show last night at Haslemere Hall in deepest rural Surrey, surely one of the poshest places that I've ever seen a gig and definitely a very apt venue to host a date on the "Posh Pop" album tour. Even Toyah remarked on how posh the area was, which, given the size and grandeur of Toyah & Robert Fripp's home was really saying something.
Actually, joking aside, it was refreshing to see a show in a real community theatre, staffed by lovely friendly locals with no over-the-top security or regulations and everyone was extremely helpful. Certainly a bit different from when I saw Toyah for the very first time back in 1981 at the Hammersmith Odeon. So, it was great to see Toyah perform in such an intimate environment and it really suited the Electro-Acoustic line-up which featured Nat Martin on guitars, Chloe Dupree on keyboards, Mike Nichols on bass and Jamie Dupree on guitars and all were superb musicians, really doing justice to the songs.
I loved the new arrangements, they all worked really well and in my opinion "Brave New World" even beat the original. It was nice to hear something different for a change rather than note by note reproductions of songs that we pretty much know by heart anyway.
• Continue reading at Retro Man Blog. Browse all of Toyah's upcoming Posh Pop Tour, live gigs and festival appearances at toyahwillcox.com.