Posh Pop Tour 2021/22: Just Eight Days To Go!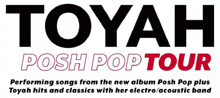 There's now just eight days until the first gig of the Posh Pop Tour!
The Mill Arts Centre, Banbury tweeted: We're thrilled to be the first venue in the Toyah Posh Pop tour! Tickets are extremely limited so book now to avoid disappointment.
• See the complete Posh Pop Tour dates at toyahwillcox.com.