Photogroupie: Toyah Interviewed At Rewind South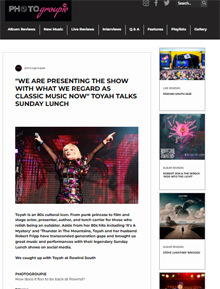 "WE ARE PRESENTING THE SHOW WITH WHAT WE REGARD AS CLASSIC MUSIC NOW" TOYAH TALKS SUNDAY LUNCH
Toyah is an 80s culteral icon. From punk princess to film and stage actor, presenter, author, and torch carrier for those who relish being an outsider. Aside from her 80s hits including 'It's A Mystery' and 'Thunder in The Mountains, Toyah and her husband Robert Fripp have transcended generation gaps and brought us great music and performances with their legendary Sunday Lunch shows on social media.
We caught up with Toyah at Rewind South
PHOTOGROUPIE
How does it feel to be back at Rewind?
TOYAH
I love it. I do 20 minutes. Every other night I'm doing two and a half hours, so this is really lovely. It's fun. I can give it 150% and not worry about act two.
PHOTOGROUPIE
Now I know you're on the road with Robert tell us about that.
TOYAH
I'm on the road now. I've been on the road since March. The Sunday lunch official tour starts at the end of September through October.
• Continue reading at Photogroupie.