Ipswich Star: Fangs For The Memory!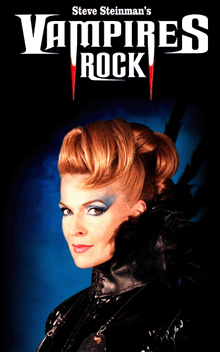 Fangs for the memory! Are you in Ipswich Regent Vampires Rock photos in Days Gone By?
Do you love putting on a ghostly or ghoulish costume to watch Vampires Rock at the Ipswich Regent?
The cult show has visited Ipswich many times over the years – and today we're looking back at some of the amazing costumes worn by members of the audience.
The concert series is masterminded by Steve Steinman, alias Baron von Rockula. Laced with pyrotechnics, it pays a spectacular tribute to Meat Loaf, AC/DC, Guns 'n Roses, and more.
It's all very light hearted, and the perfect way to celebrate Halloween. There have been various different twists to the show over the years, and Toyah Willcox took part in 2009.
Steve Steinman is due to bring his Meat Loaf tribute show, Anything For Love, to the Regent in November next year.
• Continue reading at the Ipswich Star. (NB. Toyah also starred in Vampires Rock, as the Devil Queen, through most of 2008 – Browse lots of news on those tours at our news archive)