Daily Mail: Review – Toyah – Whitty Theatre, Wokingham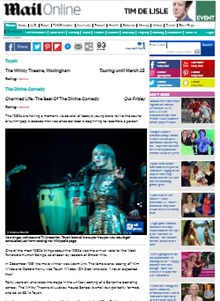 Now here's a super trouper: Toyah's voice is glowing with energy as she charms audiences with her snappy and uplifting Posh Pop
The 1980s are having a moment. As several of today's young stars revive the sound of synth-pop, a decade that was once derided is beginning to resemble a golden age.
Its music scene was a flourishing ecosystem, full of distinctive creatures from Sade to the late lamented Meat Loaf. Every week on Top Of The Pops they brought us all together to gawp or giggle at them. Younger readers may not believe this, but we even had a serious prime minister.
One of the most 1980s things about the 1980s was the annual vote for the Most Fanciable Human Beings, as chosen by readers of Smash Hits. In December 1981 the male winner was Adam Ant. The female one, seeing off Kim Wilde and Debbie Harry, was Toyah Willcox. 'Oh God,' she said. 'I never expected that.' Forty years on, she takes the stage in the unlikely setting of a Berkshire boarding school. The Whitty Theatre at Luckley House School is small but perfectly formed, and so, at 63, is Toyah.
Looking around at the audience, I find myself wondering if The Oldie magazine has a readers' poll. As a singer, actress and TV presenter, Toyah is a super trouper: you could get exhausted just from reading her Wikipedia page.
Undaunted by lockdown, she formed a bubble at home in Worcestershire with her husband Robert Fripp, the legendary King Crimson guitarist, and her co-writer Simon Darlow. The resulting album, Posh Pop, put Toyah back in the Top 30 for the first time since 1984.
On the side, she entertained herself and her fans with Toyah & Robert's Sunday Lunch, a series of YouTube videos. Each one is a jokey cover version of a classic, from The Who's My Generation to The Undertones' Teenage Kicks.
• Continue reading at the Daily Mail.