Classic Pop: Issue 51 – Crimson Queen Review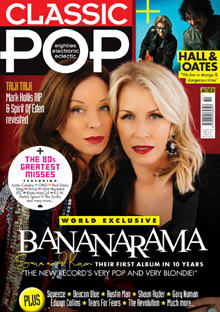 In The Court Of The Crimson Queen is reviewed in the latest issue of Classic Pop magazine (Issue 51, April 2019)
Issue 51 of Classic Pop is on sale now!
Available from WHSmith, Tesco, independent newsagents, Tesco Ireland and Easons, the new issue of Classic Pop is on sale now!
This month, we have an exclusive interview with Bananarama's Sara Dallin and Keren Woodward as they return with their first new studio album in a decade. We also meet iconic duo Hall & Oates before their UK arena tour and talk to Gary Numan as part of our look into the superfan phenomenon.
Our packed new album reviews section includes Bananarama, Edwyn Collins, Toyah, Andy Bell and The Chemical Brothers. On the reissues front, we revisit New Order's debut Movement plus re-releases from Prince, Kate Bush, R.E.M, David Bowie and more.