Brighton News: Gig Review – Posh Pop Tour | Hastings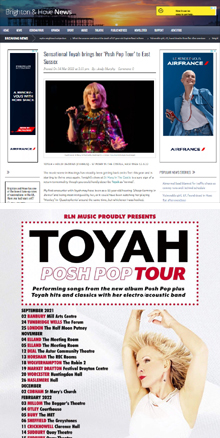 Sensational Toyah Brings Her 'Posh Pop Tour' to East Sussex
TOYAH + HOLLY DEANNA (CURRLS) – ST MARY IN THE CASTLE, HASTINGS 12.3.22
The music scene in Hastings has steadily been getting back on its feet this year and is starting to thrive once again. Tonight's show at St Mary In The Castle is a sure sign of a return to normality though you could hardly describe Toyah as 'normal'.
My first encounter with Toyah may have been as a 16 year old hearing 'Sheep Farming In Barnet' and being most intrigued by her, or it could have been watching her playing 'Monkey' in 'Quadrophenia' around the same time, but whichever I was hooked.
I got around to seeing her in the flesh for my one and only time at Drury Lane Theatre Royal on Christmas Eve, 1981, which was actually broadcast on BBC2 as an 'Old Grey Whistle Test' special. I say seeing her in the flesh but my main recollection of that night is being stuck in the balcony about as far away as you could get. I then lost my return tube ticket home, but luckily the train inspector was full of Christmas cheer and allowed me through the barrier.
Tonight was my opportunity to reconnect having lost touch with her career and was surprised to find out that she has released 16 albums, of which 11 are as a solo artist. Throw in a few compilation albums and a box set, and you have quite an accomplished music career. Of course that isn't the end of her talents as she has appeared in over 20 films, presented on television, appeared in numerous shows, and done a fair bit of charity fundraising.
• Continue reading at Brighton News. Browse Dreamscape's Posh Pop Tour News Archive.