Brighton & Hove News: Toyah To Play In East Sussex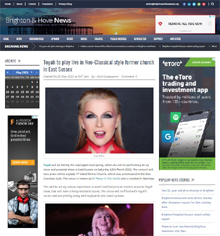 Toyah to play live in Neo-Classical style former church in East Sussex
Toyah will be hitting the road again next spring, when she will be performing an up close and personal show in East Sussex on Saturday 12th March 2022. The concert will take place within a grade II* listed former Church, which was constructed in the Neo-Classical style. The venue is known as St Marys In The Castle and is located in Hastings.
This will be a truly unique experience to watch and listen to an electric acoustic Toyah show, that will have a lively cinematic sound. The venue will be filled with Toyah's vocals and storytelling along with keyboards and stand up bass.
It will include her much loved hit singles and classic songs, alongside recalling stories from her colourful, forty year career. Toyah will perform stunning arrangements of hits, 'It's A Mystery', 'Thunder In The Mountains', 'Good Morning Universe', 'I Want To Be Free', alongside modern days classics 'Sensational' and 'Dance In The Hurricane'.
• Continue reading at Brighton and Hove News.