Daily Mail: Leslie Ash & Toyah At Proud Cabaret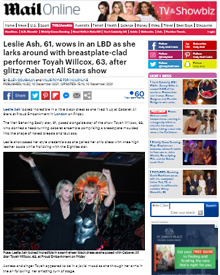 Leslie Ash, 61, wows in an LBD as she larks around with breastplate-clad performer Toyah Willcox, 63, after glitzy Cabaret All Stars show
Leslie Ash looked incredible in a little black dress as she lived it up at Cabaret All Stars at Proud Embankment in London on Friday.
The Men Behaving Badly star, 61, posed alongside star of the show Toyah Willcox, 63, who donned a head-turning cabaret ensemble comprising a breastplate moulded into the shape of naked breasts and taut abs.
Leslie showcased her style credentials as she paired her chic dress with knee high leather boots while frolicking with the Eighties star.
Actress and singer Toyah appeared to be in a jovial mood as she through her arms in the air following her amazing turn of stage.
Toyah's ensemble consisted of knee-high black boots over sheer black tights.
• Continue reading at the Daily Mail. Toyah also posted about Leslie Ash attending Proud Cabaret.