BBC Media Centre: Jools Holland / BBC Radio 2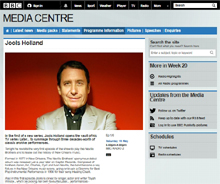 In the first of a new series, Jools Holland opens the vault of his TV series Later… to rummage through three decades-worth of classic archive performances.
Tonight he revisits the very first episode of the show to play the Neville Brothers and to tease out the history of New Orleans music.
Formed in 1977 in New Orleans, The Neville Brothers' eponymous debut album was released just a year later on Capitol Records. Composed of brothers Aaron, Art, Charles, Cyril and Ivan Neville, the band became a key fixture in the New Orleans music scene, going on to win a Grammy for Best Pop Instrumental Performance in 1990 for their song Healing Chant.
Also in this first episode Jools is joined by singer, actor and writer Toyah Willcox , who'll be picking her own favourite Later… performances – including Muse, David Bowie and Bryan Ferry – and discussing her career with Jools. Willcox is a four-times Brit Award nominated singer-songwriter, actor and producer.
In a career spanning more than 40 years, she has released over 20 albums and achieved eight Top 40 singles, including I Want to Be Free and Thunder In The Mountains. In 2001 she was awarded an honorary doctorate by the University of Central England in recognition of her achievements in performing arts, media and broadcasting.
Ep 1/6 | Saturday 16 May | 8.00pm-9.00pm | BBC Radio 2: Presenter: Jools Holland | Producer: Mark Hagen for the BBC