Toyah on the Radio: BBCR4 Loose Ends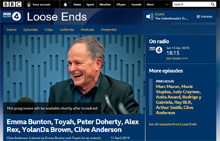 Toyah is guesting on BBC Radio 4's Loose Ends later this month.
Loose Ends: BBC Radio 4: Sat 13th April: 6.15pm
Loose Ends: BBC Radio 4: Mon 15th April: 11.30am
Emma Bunton, Toyah, Peter Doherty, Alex Rex, YolanDa Brown. Clive Anderson is joined by Emma Bunton and Toyah for an eclectic mix of conversation, music and comedy. With music from Peter Doherty and Alex Rex.
• Visit the Loose Ends webpage at bbc.co.uk.