Toyah Live 2020: Virtual Woo Fest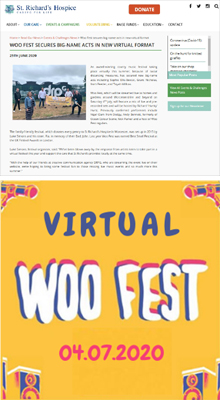 Woo Fest secures big-name acts in new virtual format
An award-winning county music festival taking place virtually this summer, because of social distancing measures, has secured new big-name acts including Sophie Ellis-Bextor, Grant Nicholas, from Feeder, and Toyah Willcox.
Woo Fest, which will be streamed live to homes and gardens around Worcestershire and beyond on Saturday 4th July, will feature a mix of live and pre-recorded sets and will be hosted by Richard 'Hursty' Hurst. Previously confirmed performers include Nigel Clark from Dodgy, Andy Bennett, formerly of Ocean Colour Scene, Nick Parker and a host of Woo Fest regulars.
The family-friendly festival, which donates every penny to St Richard's Hospice in Worcester, was set up in 2015 by Luke Simons and his sister, Ria, in memory of their Dad, John. Last year Woo Fest was named Best Small Festival at the UK Festival Awards in London.
Luke Simons, festival organiser, said: "We've been blown away by the response from artists keen to take part in a virtual festival this year and support the care that St Richard's provides locally at the same time.
"With the help of our friends at creative communication agency DRPG, who are streaming the event live on their website, we're hoping to bring some festival fun to those missing live music events and so much more this summer."
Woo Fest will take place on Saturday 4th July and will be live streamed on the DRPG Communications website virtualwoofest.drpg.events – Woo Fest will get underway at 3pm and run until 10.30pm.
• Continue reading at strichards.org.uk. See more info on Virtual Woo Fest 2020. The festival will air online here.