The Press & Journal: Return Of The Crimson Queen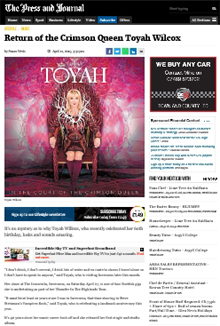 It's no mystery as to why Toyah Willcox, who recently celebrated her 60th birthday, looks and sounds amazing.
"I don't drink, I don't overeat, I drink lots of water and en route to shows I travel alone so I don't have to speak to anyone," said Toyah, who is visiting Inverness later this month. Her show at The Ironworks, Inverness, on Saturday April 27, is one of four Scottish gigs she is undertaking as part of her Thunder In The Highlands Tour.
"It must be at least 10 years since I was in Inverness, that time starring in Steve Steinman's Vampires Rock," said Toyah, who is celebrating a landmark anniversary this year.
It's 40 years since her music career took off and she released her first single and studio album. She, and her full electric band, will play tracks from it at the show, which celebrates her hit singles, album classics and fan favourites.
"The show will see me travel through punk, new wave and into the present day which results in a pretty high-energy show," said Toyah.
• Continue reading at The Press & Journal.