The Guardian Archive: Toyah Willcox, The Thinking Man's Punkette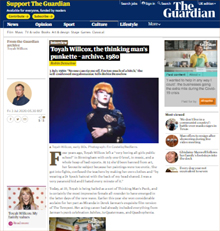 An archive Toyah interview has been re-published today by The Guardian.
Toyah Willcox, the thinking man's punkette – archive, 1980
3 July 1980: "No one can rip me off. I'm too much of a bitch," the self-confessed megalomaniac tells Robin Denselow
Four years ago, Toyah Willcox left a "very boring all-girls public school" in Birmingham with only one O level, in music, and a whole heap of bad reports. At 14 she'd been banned from art, her favourite subject because her paintings were too erotic. She got into fights, confused the teachers by making her own clothes and "by wearing a Dr Spock haircut with the back of my head shaved. I was a very paranoid kid and I hated every minute of it."
Today, at 22, Toyah is being hailed as a sort of Thinking Man's Punk, and is certainly the most impressive female all-rounder to have emerged in the latter days of the new wave. Earlier this year she won considerable acclaim for her part as Miranda in Derek Jarman's exquisite film version of The Tempest. Her acting career had already included everything from Jarman's punk celebration Jubilee, to Quatermass, and Quadrophenia.
• Continue reading at The Guardian.