The Blue Meaning: Celebrating 40 Years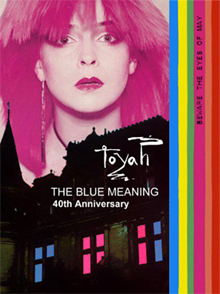 Happy 40th Anniversary to one of the great landmarks of Toyah's music career – The Blue Meaning. The second long-player (as they were once called) and first full studio album, was released exactly 40 years ago today, in June 1980.
An amazing album and Toyah era, The Blue Meaning is significant for a number of reasons: It was the first Toyah release to enter the Official UK Chart (though earlier singles and the first album had all scaled the peak of the Indie Chart).
It also boasted incredible imagery, artwork and high design standard which would become synonymous with Toyah's music career and future releases. The album also includes Toyah's most legendary song, the perennial fan-favourite, Ieya! No Toyah gig is complete without it.
Over the past four decades the album has increased in significance, becoming a crucial part of Toyah's discography. Everyone loves Anthem (who couldn't?), The Changeling is a favourite of many fans, Love Is The Law saw Toyah's vocals soar, Minx still divides opinion, Prostitute mindboggled us all, Ophelia's Shadow as beautiful, intricate and unique as any album by Kate Bush or Tori Amos, In The Court Of The Crimson Queen introduced Toyah to a new audience while also delighting longtime fans, and yet The Blue Meaning came before all of the aforementioned and 40 years later still intrigues and entertains with each and every listen. Click below for our feature.