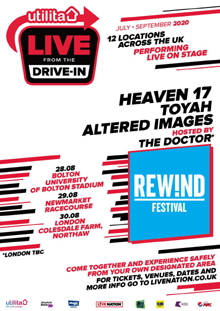 Rewind Festival is back! Live from the Drive-In.
Toyah was, this morning, announced as playing three dates, along with Heaven 17 and Altered Images as part of Rewind 2020. Concerts will be hosted by The Doctor (from Dr & The Medics).
These three Rewind shows form part of the Utilita Live from the Drive-In series this summer! These are very exclusive evenings as there are only 300 cars at each show.
28.08.2020: University Of Bolton Stadium, Bolton
29.08.2020: Newmarket Racecourse
30.08.2020: Colesdale Farm, Northaw, London
A pre-sale of tickets takes place from 10am tomorrow, with general sales from 10am on Friday.
Come together and experience safely from your own designated area.
• Further information on Rewind Festival 2020 at Live Nation. Watch the Utlita Live From The Drive-In video at You Tube.