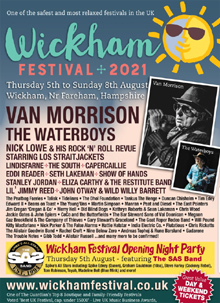 Toyah plays Wickham Festival this evening, as a guest vocalist with The SAS Band, for the Wickham Festival Opening Night Party. Toyah has played numerous gigs and festivals over the past 15 years with Spike's All Stars.
This is the third time Toyah has played "one of the safest and most relaxed festivals in the UK". In 2016 she, again, played as part of The SAS Band, and back in 2011 Toyah played a solo set.
Spike's All-Stars featuring Spike Edney (Queen) and guest vocalists Graham Gouldman (10cc), Steve Harley (Cockney Rebel), Tom Robinson, Toyah, Madeline Bell (Blue Mink) and an all-star band.
Every SAS show is unique and Thursday 5th August at Wickham Festival will feature a fabulous line up of eclectic artists. This will be an evening not to be missed.
• Visit the Wickham Festival 2021 website.