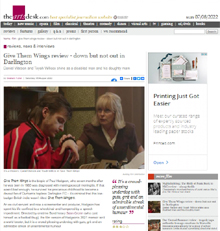 Give Them Wings review – down but not out in Darlington
Daniel Watson and Toyah Willcox shine as a disabled man and his doughty mam
Give Them Wings is the biopic of Paul Hodgson, who seven months after he was born in 1965 was diagnosed with meningococcal meningitis. If that wasn't bad enough, he survived his precarious childhood to become a devout fan of Durham's hapless Darlington FC – it's criminal that this low-budget British indie wasn't titled Give Them Wingers.
An ex-civil servant and now a screenwriter and producer, Hodgson has spent his life confined to a wheelchair and hampered by a speech impediment. Directed by onetime Bond heavy Sean Cronin (who cast himself as a football thug), the film version of Hodgson's 2021 memoir isn't a world-beater, but it is a crowd-pleasing underdog with guts, grit and an admirable streak of unsentimental humour.
Set in the late 1980s, Hodgson's story of striving unfolds in the drab Northern terrain familiar from early '60s realist films, the so-called British New Wave.
• Continue reading at The Arts Desk.